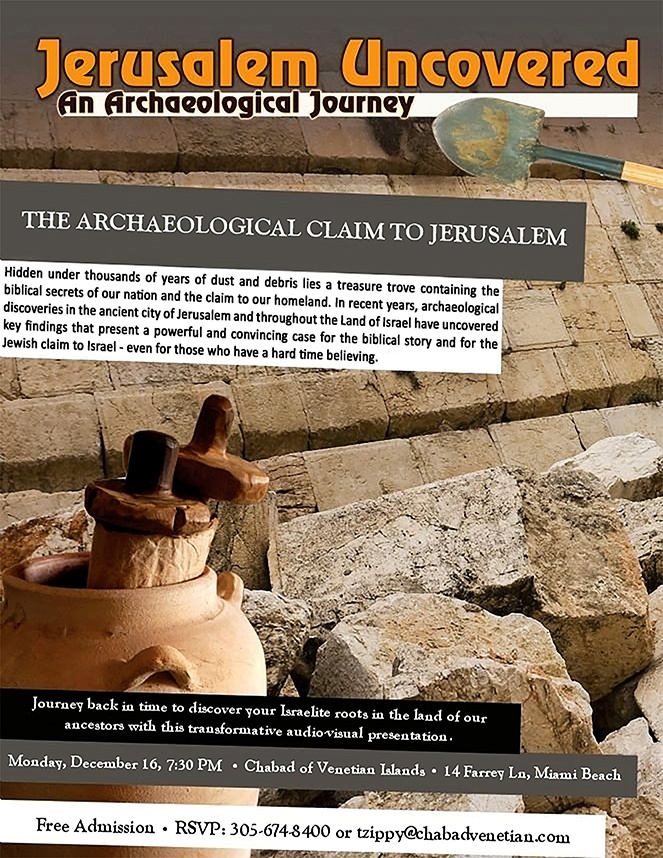 The "Jerusalem Uncovered" lecture  is a unique presentation which has received wide acclaim around the country. The lecture is intriguing, captivating, & eye opening and will appeal to a wide variety of audiences.
The presentations center around biblical archaeology and feature fascinating discoveries that show the connection between the bible and the land of Israel. It is an eye opening presentation
Everyone can enjoy - whether you've been to Israel before or never heard of the Western wall - everyone will benefit from this unique offering. And there's no need for any background in history or archaeology.
What's more - These are 'hot button' issues facing Jews today and Israel in particular. It centers on the single most contentious issue in the Middle East conflict. It's important that you arm yourself with the facts on the ground - and underground.
The presentation is a blend of historical background and the latest archaeological discoveries, presented in a clear manner through imagery, diagrams and videos.
Participants will walk away with a stronger connection to their Jewish heritage and to the land of Israel.
About the Presenter
Rabbi Avrohom Stolik is the director of Chabad of Downtown Coral Gables, Florida. A number of visits to the Holy Land sparked his interest in archaeology. Combining his extensive knowledge of Jewish History with his new passion, he has been lecturing on the topic of biblical archeology for over a decade, focusing mainly on Jerusalem. He has created a unique presentation which has received wide acclaim from his audiences, and has earned him a reputation as a biblical archaeological scholar of note.